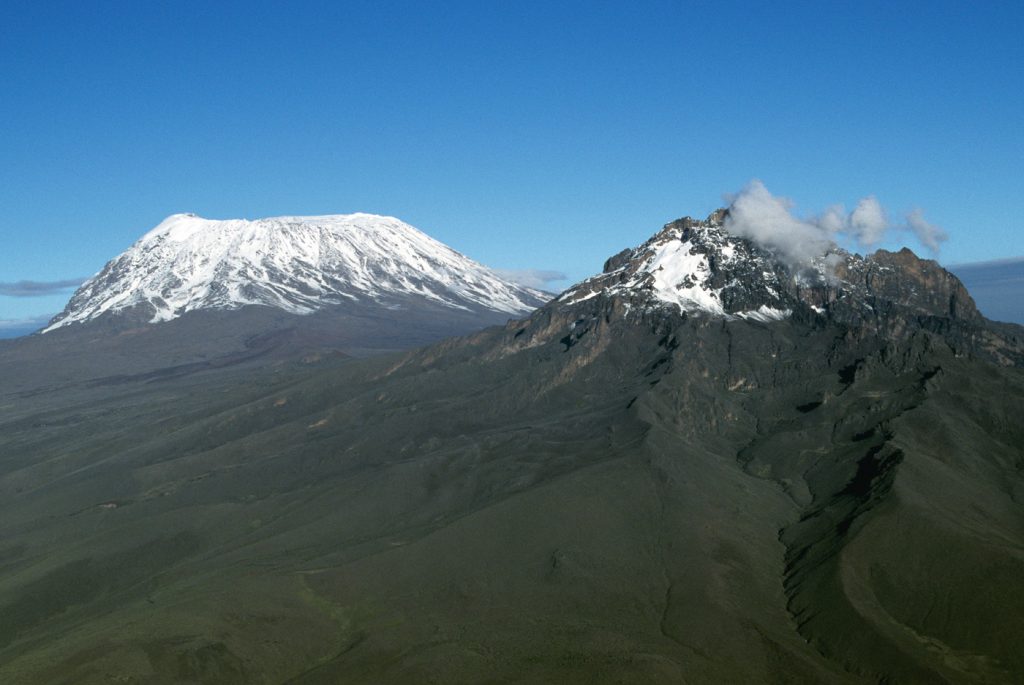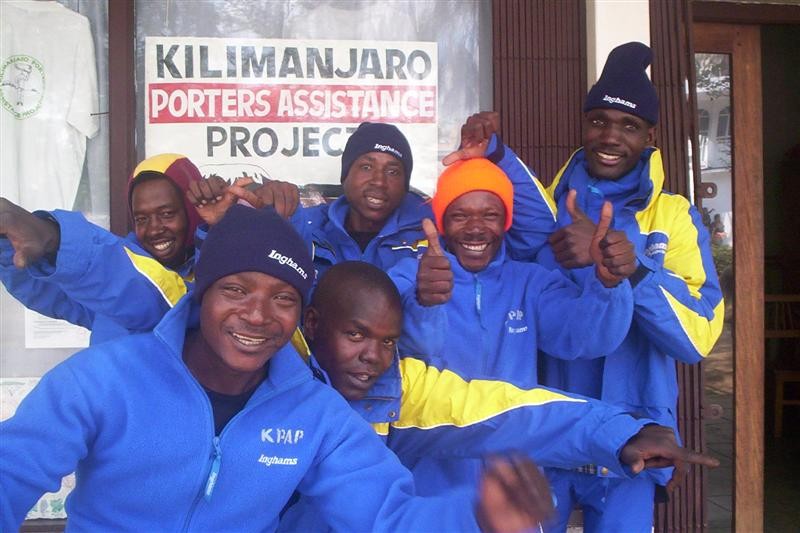 KPAP depends on donations and grants to help fund our free programs for porters. Please help support the work of the Kilimanjaro Porters Assistance Project. Donations made through our parent organization, the International Mountain Explorers Connection, a 501c(3) nonprofit organization, are tax-deductible according to U.S. law for U.S. donors. Please join us and become a part of advocating for and safeguarding the fair and ethical treatment of Kilimanjaro porters by donating to this worthy cause.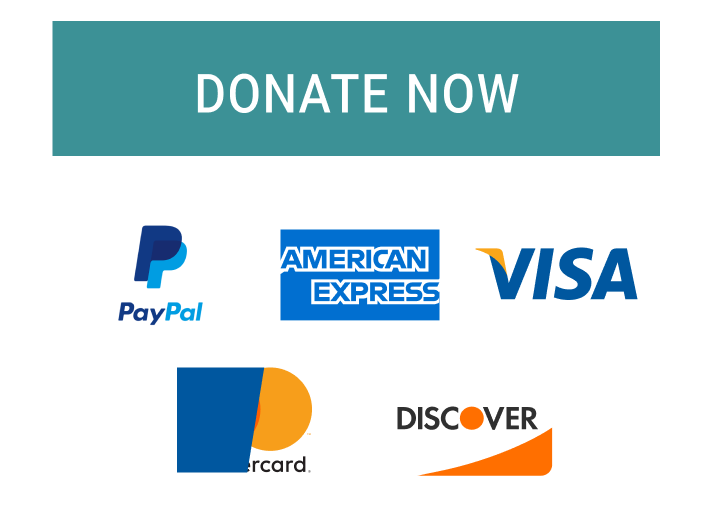 Thank You to Our Supporters
We are deeply grateful to all of the individuals and organizations that value and support KPAP's work.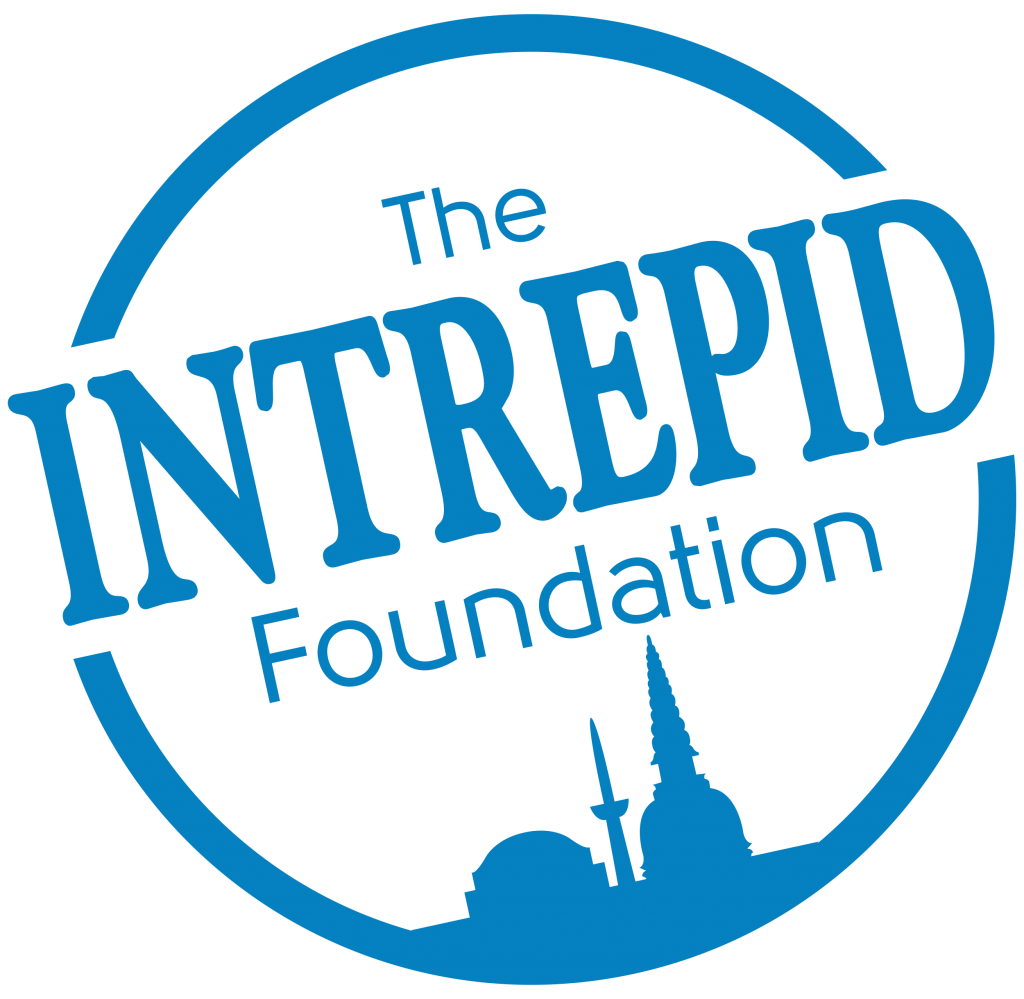 The Intrepid Foundation – 2019
The Intrepid Foundation is the not-for-profit entity of Intrepid Group, a certified B Corp specializing in small group sustainable travel. The Foundation supports local organizations around the world to improve the livelihoods of vulnerable individuals and communities through sustainable travel experiences.
| Donor | Year |
| --- | --- |
| Madison Community Foundation | 2020 |
| Exodus Travels Foundation | 2020 |
| The Intrepid Foundation | 2020 |
| Phil & Valerie Brown | 2020 |
| Everest '96 Memorial Fund | 2020 |
| Scott Dimetrosky | 2020 |
| Janet Hotz | 2020 |
| Semrod Foundation | 2020 |
| Melissa Tan | 2020 |
| Benevity Fund | 2020 |
| Clear Path for Veterans | 2020 |
| Compton Foundation | 2020 |
| Eversource Energy Foundation | 2020 |
| John Navin | 2020 |
| Jing Yan | 2020 |
| Network for Good | 2020 |
| Caroline Stevens | 2020 |
| Kaufmann Trekking | 2020 |
| Lorenzo Chiarion Casoni | 2020 |
| Rhonda Wilson | 2020 |
| Vlado Herman | 2020 |
| Nature Discovery | 2020 |
| Leslie Davis | 2020 |
| African Scenic Safaris | 2020 |
| Caroline Trost | 2020 |
| cristina negrea | 2020 |
| Gwendolyn Tillman | 2020 |
| Jonathan Justice | 2020 |
| Lynn Highland | 2020 |
| Michael Hansen | 2020 |
| Ruchi Patel | 2020 |
| Susan Tomley | 2020 |
| Janet deGrazia | 2020 |
| Kathleen Wood | 2020 |
| Lindsey Corcoran | 2020 |
| Barking Zebra Adventures | 2020 |
| Frances Loughridge | 2020 |
| Alexandra Pastollnigg | 2020 |
| Bhavraj Thethy | 2020 |
| Amy Penner-Walker | 2020 |
| Angenette Meaney | 2020 |
| Anirudh Bhateja | 2020 |
| Antonia Benfield | 2020 |
| Barbara Munson | 2020 |
| Barbara Staples | 2020 |
| Cara Campbell | 2020 |
| David Jones | 2020 |
| Deborah Hulse | 2020 |
| Dennis O'Connor | 2020 |
| Dr S Hugo | 2020 |
| Eliza Savage | 2020 |
| Emily Woodward | 2020 |
| Eric Parsons | 2020 |
| Francois Koch | 2020 |
| jackie jaron | 2020 |
| James Stewart | 2020 |
| Jeremy Hoffman | 2020 |
| Kevin Okihiro | 2020 |
| Michael Diamond | 2020 |
| Michael Moss | 2020 |
| Rohan Wolfers | 2020 |
| Ryan Kell | 2020 |
| Sheridan McLeod | 2020 |
| Terry Homder | 2020 |
| Karen Sullivan | 2020 |
| Agathe BŽranger | 2020 |
| Cheryl Rumph | 2020 |
| Flavia Cusaro | 2020 |
| Jennifer Parratt | 2020 |
| Maria Alexandra Roventa | 2020 |
| Matt Hongosh | 2020 |
| Peter Roan | 2020 |
| Rachel Roberts | 2020 |
| Richard Schiller | 2020 |
| Samantha Fogel | 2020 |
| Lawrence Cotter | 2020 |
| rachel ewer | 2020 |
| Terry Homder | 2020 |
| christine costello | 2020 |
| J E Hill | 2020 |
| Jessie Wang | 2020 |
| John Cocoziello | 2020 |
| Jonathan Haigh | 2020 |
| Karsten Jannicke | 2020 |
| Louise Mc namara | 2020 |
| Mario Niebes | 2020 |
| Michelle Blunt | 2020 |
| Nora Martinez | 2020 |
| Royce Piro | 2020 |
| The Christopher Missions Foundation | 2020 |
| Donald Siess | 2020 |
| Mark Clixby | 2020 |
| Bronwyn Caplan | 2020 |
| Chiara Rinaldi | 2020 |
| David Doran | 2020 |
| Harry McLaren | 2020 |
| Henrik SchlŸter | 2020 |
| Anagha Khedkar | 2020 |
| Elsa Borrello | 2020 |
| Moustafa Manialawy | 2020 |
| Alfredo Gonzalez | 2020 |
| The Intrepid Foundation | 2019 |
| REI - Recreational Equipment, Inc. | 2019 |
| Nathan & Madeline Partain | 2019 |
| C.F. Pollard Foundation | 2019 |
| Exodus Travels Foundation | 2019 |
| Phil and Valerie Brown | 2019 |
| Everest '96 Memorial Fund | 2019 |
| Leo S. Walsh Foundation | 2019 |
| Scott Dimetrosky | 2019 |
| Steve Kaufman | 2019 |
| Thomson Safaris | 2019 |
| Benevity Fund | 2019 |
| Karim Souki | 2019 |
| Olga Geroulanos | 2019 |
| Network for Good | 2019 |
| Geoffrey & Lisa Dybas | 2019 |
| Christa Singleton | 2019 |
| Compton Foundation | 2019 |
| Gary Spies | 2019 |
| Philip Lembro | 2019 |
| Philip Mcloughlin | 2019 |
| James Judge | 2019 |
| Randle Smith | 2019 |
| Freddie Chikima | 2019 |
| A&K Philanthropy | 2019 |
| Anna Oursler | 2019 |
| Anne Bezek | 2019 |
| Caroline Barlerin | 2019 |
| Daniel Ford | 2019 |
| Jared Anderson | 2019 |
| John Erickson | 2019 |
| Kathryn Johnson | 2019 |
| Michael Deeds | 2019 |
| Steve Fritze | 2019 |
| Steven Fleishman | 2019 |
| Thomas Webb | 2019 |
| Vlado Herman | 2019 |
| John Landgraf | 2019 |
| Stanton Taylor | 2019 |
| Linda and Dennis O'Connor | 2019 |
| Lex Lewis | 2019 |
| Lisa Grundy | 2019 |
| Marcie Hayes | 2019 |
| Tim O'Keefe | 2019 |
| James Stake | 2019 |
| Clifford Hoffman | 2019 |
| Donald Burke | 2019 |
| Elizabeth Moulton | 2019 |
| Heather Lancaster | 2019 |
| Lawrence Hamilton | 2019 |
| Lori McClaury | 2019 |
| Adam Young | 2019 |
| Bruce Brumberg | 2019 |
| Connie Luecke | 2019 |
| Einar Mark Christensen | 2019 |
| Jenny Siess Siess | 2019 |
| John Brophy | 2019 |
| Last Man Standing Club | 2019 |
| Liza White | 2019 |
| Maria Alexandra Danila | 2019 |
| Leslie Davis | 2019 |
| T Rowe Price Charitable Giving | 2019 |
| Peter Otto | 2019 |
| John King | 2019 |
| Moira Little | 2019 |
| Stephen Gibbens | 2019 |
| Pravin Rao | 2019 |
| Adam Roberts | 2019 |
| Alexandra Pastollnigg | 2019 |
| Brett Sandifer | 2019 |
| Christine Costello | 2019 |
| Cristine Negrea | 2019 |
| David Webb | 2019 |
| Erin Peebles | 2019 |
| Geraldine McNamara | 2019 |
| Heather Fields | 2019 |
| James Porter | 2019 |
| Kevin Meier | 2019 |
| Maureen Greene | 2019 |
| Nadine Baumann | 2019 |
| Pauline Bibby | 2019 |
| University of Maine at Farmington Rotary Club | 2019 |
| Vitaly Pecherskiy | 2019 |
| William Carpenter | 2019 |
| The Booth Company | 2019 |
| Ulla Westermann | 2019 |
| Michelle Blunt | 2019 |
| Anaconda Ambtman | 2019 |
| Anne Vara | 2019 |
| Brittany Visosky | 2019 |
| Deirdre McCarthy | 2019 |
| Diane Equi | 2019 |
| Gary Siess | 2019 |
| Joanne Cummins | 2019 |
| Karen Clow | 2019 |
| Kathy Andrews | 2019 |
| Lara Blankenburg | 2019 |
| Will Shillito | 2019 |
| Anne Ruffell | 2019 |
| Christy Scanlan | 2019 |
| Lawrence Cotter | 2019 |
| Mark Clixby | 2019 |
| Anna-Karin Sundman | 2019 |
| Justine Christian | 2019 |
| Richard Dow | 2019 |
| Alan Zucker | 2019 |
| Karen Silvasy | 2019 |
| Maria McKinley | 2019 |
| Michael Gerou | 2019 |
| Milena Phan | 2019 |
| Tamara Williams | 2019 |
| Christine Callahan | 2019 |
| Dena Thorson | 2019 |
| Ellen McCormack | 2019 |
| John Rye | 2019 |
| Rosa West | 2019 |
| Daniel Pozen | 2019 |
| Danielle Corrao | 2019 |
| Kevin Cerrato | 2019 |
| Jack Zuzack | 2019 |
| Everest '96 Memorial Fund | 2018 |
| Phil and Valerie Brown | 2018 |
| The Intrepid Foundation | 2018 |
| Scott Dimetrosky | 2018 |
| Marie Cheng Crowdfunding | 2018 |
| Matthew Todd | 2018 |
| Porters Progress UK | 2018 |
| Alexa Gangemi | 2018 |
| Compton Foundation | 2018 |
| Rebecca Saas | 2018 |
| Linda & Dennis O'Connor | 2018 |
| Michael Deeds | 2018 |
| Garry Riggs | 2018 |
| Azizi Msuya | 2018 |
| Vlado Herman | 2018 |
| Sara Gray | 2018 |
| Lindsey Corcoran | 2018 |
| Andre Dufour | 2018 |
| Annette & Charlie Dart | 2018 |
| Adventures in Good Company | 2018 |
| Jared Anderson | 2018 |
| Joan Frawley | 2018 |
| Stacy Anderson | 2018 |
| Kim Abell | 2018 |
| Mark Gunlogson | 2018 |
| Bridget McEvoy Day | 2018 |
| David Allen | 2018 |
| Finn Ivar | 2018 |
| Eliza Savage | 2018 |
| Brett Sandifer | 2018 |
| Martha Parr | 2018 |
| Steena Chandler | 2018 |
| John Brophy | 2018 |
| Anthony Gurnee | 2018 |
| Guenther Haerter | 2018 |
| Ronald Rudolph | 2018 |
| Kirk Smith | 2018 |
| Lauren Genger | 2018 |
| Leslie Davis | 2018 |
| Susan Brashear | 2018 |
| Suzanne Tart | 2018 |
| Susan Tomley | 2018 |
| Patrick Pastollnigg | 2018 |
| Gwendolyn Tillman | 2018 |
| Michael Hansen | 2018 |
| Amanda Sebris | 2018 |
| Kelly O'Brien | 2018 |
| Gabriele Brown | 2018 |
| Harry McLaren | 2018 |
| Melissa Foley | 2018 |
| Michael Hansen | 2018 |
| Megan Mahoney | 2018 |
| Abhishek Verma | 2018 |
| Marianne Temple | 2018 |
| Dr. Martin Haas | 2018 |
| Jean Covell | 2018 |
| Maria Alexandra Roventa | 2018 |
| Cristina Negrea | 2018 |
| Maureen Greene | 2018 |
| Sonia Garcia | 2018 |
| Erin Soggs | 2018 |
| Hal Davis | 2018 |
| Jennifer O'Keefe | 2018 |
| Marika Forster | 2018 |
| Bianca Hagist | 2018 |
| Anna-Karin Sundman | 2018 |
| Alan Zucker | 2018 |
| Susan Bolton | 2018 |
| Kristina Hidas | 2018 |
| Liza White | 2018 |
| Tamara Williams | 2018 |
| Amin Ngomasere [email protected] | 2018 |
| Gary Siess | 2018 |
| Stephanie Franklin | 2018 |
| John Holt | 2018 |
| Jason Kreisberg | 2018 |
| On behalf of Danille Creedon | 2018 |
| Jerry Shapiro | 2018 |
| Christine Costello | 2018 |
| Thomas Balcavage | 2018 |
| Barbara Munson | 2018 |
| Veronica Sauer | 2018 |
| Alexandra Pastollnigg | 2018 |
| Colin Vose | 2018 |
| In honor of the Artusiessasaurus family | 2018 |
| Chloe Fife | 2018 |
| Kelly White | 2018 |
| Lawrence Cotter | 2018 |
| Maria McKinley | 2018 |
| Terri Head | 2018 |
| Benjamin Knowles | 2018 |
| Mark Westdyk | 2018 |
| Maria McKinley | 2018 |
| Alan Zucker | 2018 |
| William Lajoie | 2018 |
| Richard Dow | 2018 |
| Mark Clixby | 2018 |
| Kate Vose | 2018 |
| John Zuzack | 2018 |
| Nathan Partain | 2018 |
| Everest '96 Memorial Fund | 2017 |
| Phil and Valerie Brown | 2017 |
| Scott Dimetrosky | 2017 |
| Intrepid Foundation | 2017 |
| Mike Deeds | 2017 |
| Semrod Foundation | 2017 |
| Susan McMahon | 2017 |
| Anna Oursler | 2017 |
| Carrie Castino | 2017 |
| Jan Swinnen | 2017 |
| Jared Anderson | 2017 |
| Jeffrey Martin | 2017 |
| Ruth Carter | 2017 |
| Seth Prose | 2017 |
| John Brophy | 2017 |
| Jean Goulden | 2017 |
| Bridget McEvoy Day | 2017 |
| Heather Haines | 2017 |
| Leslie Hubertus | 2017 |
| Jenne Beecher | 2017 |
| Juan Luis Bellon Nunez-Mera | 2017 |
| Martha Parr | 2017 |
| Ottilie Young | 2017 |
| Maria Roventa | 2017 |
| Susan Tomley | 2017 |
| Brian Morgan | 2017 |
| Carley Andrews | 2017 |
| Guy Cotter | 2017 |
| James Stewart | 2017 |
| Nadine Baumann | 2017 |
| Enrico Ne | 2017 |
| William Brown | 2017 |
| Walter Kingsbery | 2017 |
| Thomas James | 2017 |
| Daniel Cameron | 2017 |
| Doris Engibous | 2017 |
| Dr Erica Peabody | 2017 |
| Dr Martin Haas | 2017 |
| Edwin Friendly | 2017 |
| Ellen Weiser | 2017 |
| Emily Woodward | 2017 |
| Franes Vavrus | 2017 |
| Janet Haisman | 2017 |
| Janina Kutesko | 2017 |
| Jeff H Risley | 2017 |
| Jerry & Connor Shapiro | 2017 |
| Jing Yan | 2017 |
| Hal Davis | 2017 |
| Kristy Bell | 2017 |
| Malcolm Lackey | 2017 |
| Maureen Greene | 2017 |
| Mirja Zeilstra | 2017 |
| Sally Law | 2017 |
| Sandy Tsai | 2017 |
| Scott Ng | 2017 |
| Starr Orris | 2017 |
| Tanvee Rao | 2017 |
| Timothy Gordon | 2017 |
| Vikram Chandran | 2017 |
| Wayne Warrington | 2017 |
| Alexandra Pastollnigg | 2017 |
| Robert Barnett | 2017 |
| Roger Hansen | 2017 |
| Harald Flaa | 2017 |
| Zachary Pilchen | 2017 |
| Aandeljko Tesic | 2017 |
| Charlotte Boulay | 2017 |
| Christine Costello | 2017 |
| Cindy Luxhoj | 2017 |
| Cynthia Cunningham | 2017 |
| David Chilvers | 2017 |
| David Jones | 2017 |
| David Leinbach | 2017 |
| Elsabe Pretorius | 2017 |
| George Frankfurter on behalf of Danielle Creedon | 2017 |
| George Koeck | 2017 |
| Gerald Frost | 2017 |
| Ian Baclay | 2017 |
| Jill R Powers | 2017 |
| Joanna Black | 2017 |
| John Holt | 2017 |
| John Soos | 2017 |
| Mark Silver | 2017 |
| Meagan Pollak | 2017 |
| Meleen Sheth | 2017 |
| R A L Parker | 2017 |
| Robert Howe | 2017 |
| BJ and Stan Friedman | 2017 |
| Matt Kniess | 2017 |
| Amy Luo | 2017 |
| Elizabeth Tayor | 2017 |
| Ian Rooke | 2017 |
| Richard Dow | 2017 |
| Alexis Kedo | 2017 |
| Andrew Clayton | 2017 |
| Benjamin Knowles | 2017 |
| Chelsea Grassmeyer | 2017 |
| John Rye | 2017 |
| Mike Canham | 2017 |
| Mike Lynch | 2017 |
| Nicholas Lloyd-Hughes | 2017 |
| Nidhi Gupta | 2017 |
| Patricia Mathews | 2017 |
| Rebecca Cohen | 2017 |
| Robert Burns | 2017 |
| Ushma Shah | 2017 |
| Yves Roger | 2017 |
| Mark Clixby | 2017 |
| Evan Armstrong | 2017 |
| Jenny Austin | 2017 |
| Michael Monette | 2017 |
| Nadja Henning | 2017 |
| Richard Monette | 2017 |
| Rosamund Gordon | 2017 |
| Tiffany Swiderski | 2017 |
| La Pommeraie | 2017 |
| Lindy Durrant | 2017 |
| Mark Read | 2017 |
| Nick Barrett | 2017 |
| Paul Dargan | 2017 |