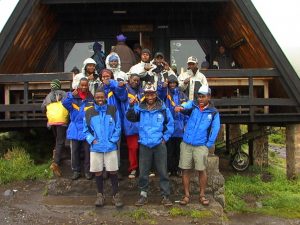 Since 2003, KPAP's work has had a tremendous impact for porters climbing Mount Kilimanjaro. These include:
Porters on 36,706 climbs have borrowed KPAP's mountain climbing gear free-of-charge
Over 7,000 porters climbing with Partner for Responsible Travel companies are ensured fair and ethical treatment every year
More than 16,000 mountain crew have participated with KPAP's free educational and training classes in English, HIV/AIDS Awareness and Money Management
Through funding provided by the Tanzanian Foundation for Civil Society, KPAP has instructed 5,225 porters in classes on Porter Rights
205 mountain crew have received Leave No Trace certification in environmental care of Mount Kilimanjaro
Another 1,387 mountain crew have been certified in First Aid and 84 porters and guides have been trained as First Aid Instructors.
IMPACT MADE BY CLIMBING WITH AN APPROVED PARTNER COMPANY
KPAP estimates that 7,150 some porters climbing with the Partner companies have benefited in the following ways in 2019:
Although the government has declared a minimum wage, the salary amounts paid are variable and can be as low as 8-10,000Tsh per day.  Because it is mandatory for the Partner companies to pay at least 20,000Tsh per day, the average daily salary payment was 20,847Tsh.
Companies have different tipping procedures and climbers may give the guide the tip money assuming s/he will distribute the tip fairly.  It is a Partner requirement to have transparency in tipping and KPAP reviews the tipping procedure on every climb. 99.7% of the Partner companies' climbs had transparent tipping procedures. 
Porters may eat 1 or 2 meals per day on a climb.  The Partner companies are committed to providing 3 meals per day.  315,000 more meals were provided to Partner companies' porters above the norm. 
Porters may have poor sleeping accommodations and be overcrowded.  Partner company porters slept in good quality tents and had adequate sleeping space 96.5% of the time.
Partner companies weigh the bags prior to going to the gate.  This helps ensure the appropriate number of porters and they are carrying the 20kg weight regulation.  
All legally licensed climbing companies are welcome to join the Partner for Responsible Travel Program.  By choosing to climb with a Partner company, you can rest assured that your porters are taken care of well.