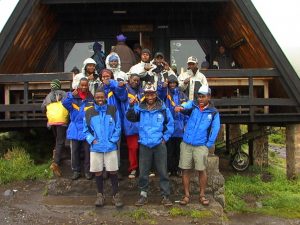 Since 2003, KPAP's work has had a tremendous impact for porters climbing Mount Kilimanjaro. These include:
Porters on over 32,500 climbs have borrowed KPAP's mountain climbing gear free-of-charge
Over 7,000 porters climbing with Partner for Responsible Travel companies are ensured fair and ethical treatment every year
More than 16,000 mountain crew have participated with KPAP's free educational and training classes in English, HIV/AIDS Awareness and Money Management
Through funding provided by the Tanzanian Foundation for Civil Society, KPAP has instructed 5,225 porters in classes on Porter Rights
115 mountain crew have received Leave No Trace certification in environmental care of Mount Kilimanjaro
More than 1,320 mountain crew have been certified in First Aid and 69 porters and guides have been trained as First Aid Instructors and have gone on to conduct First Aid Certification courses for additional porters and mountain crew.
In addition, the Partner for Responsible Travel Program has proven to be instrumental in facilitating improvements of porter treatment on Mount Kilimanjaro. KPAP's monitoring activities have demonstrated that climbing companies participating with the Partner for Responsible Travel Program consistently perform better than those companies who do not.
Comparison of Partner and Non-Partner companies from 2009–2016: