In order to qualify as a Partner for Responsible Travel:
The company voluntarily participates with KPAP's monitoring of the treatment practices on all Kilimanjaro climbs. All KPAP monitoring activities are performed at no charge to the climbing company.

An initial interview is held to understand the company's procedures related to the crew after which the company undergoes extensive review and assessment by placing a KPAP porter on every climb during the season.

If the minimum number of climbs are examined during the initial climbing season,

data from the monitoring activities is compiled at the end of the season generating a Scorecard documenting the company's treatment of the crew.

A company qualifies as a Partner if attaining a minimum of an 85% performance level on the Porter Treatment Scorecard.

The Partner company's practices continue to be monitored every season thereafter to determine if the company continues to qualify in meeting the minimum 85% performance level.

Companies who fail to meet the 85% performance level in any season are suspended until they demonstrate an 85% performance level in the following climbing season.
All Partner Companies must agree to and implement the following actions:
Pay the minimum wages for the crew agreed upon by the government and Kilimanjaro stakeholders.

Provide salary payments within 2 days after the descent of a climb as per KINAPA regulations.

Implement a transparent tipping procedure to ensure that the porters receive the full amount of tip intended for them.

Provide tipping recommendations to climbers so that porters receive a proper living wage from the combined salary and tip.

Provide the appropriate number of porters per climb so that each porter carries only 20kg of company gear. The minimum number of porters per climber on the camping routes is at least 3 porters per climber and 2 porters per climber on the Marangu route.

Provide 3 meals a day of adequate portion and cover all costs for food while on the mountain.

Provide proper tents, ground sheet, and appropriate sleeping space for crew. Regular porters are not to sleep in the mess tent.

Offer equal opportunities for work to all porters registered with the company.

Inform the crew of the company's requirements regarding gear and equipment and ensure proper kit prior to the climb.

Assist with the descent of an ill porter and provide for medical treatment as necessary.

Provide transportation to Londorossi and Rongai gates.

Participate in a biannual review of Guidelines for Proper Porter Treatment Scorecards with KPAP.

Meet with porters, company Director/s and KPAP once per year to review and discuss crew welfare.

Attend annual Partner Company general meeting.

Adhere to all local and National Government standards and regulations.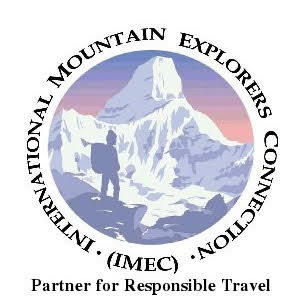 Please see the current list of IMEC Partners for Responsible Travel here.